Artist/
illustrator.


My latest project is the design and the map for a sign for the first food forest in our town. I made the illustration with crayon; the plants with Chinese ink and we put it together in layers in Illustrator. Now we can also use the illustrations of the plants for signs in the garden, on t-shirts, on streamers, for a colouring book and much more. Coast Signs made the custom frame from recycled materials.

"What is your medium?" people often ask me and honestly, I have no answer, I use Chinese ink, acrylics, oil pastel, crayon, pencil, chalk, watercolour, print, paper, fabric, canvas, driftwood, or whatever I can find in my messy and overcrowded studio.

About my art

I do not have

'

one style'. I do not fit in a movement or a group, nor do I follow some kind of creative ideology. It's all very simple: I am inspired by what I see and experience, my environment the people I meet, and I have to get it out of my head.

No layering, no creative birthing process, no struggle on canvas: For me the artwork itself is the final end-result of a long internal thought process, which

happens in the shower, driving to school, on the ferry, or waiting in line at the bank.

The final piece is bold and definitive. Love it or leave it.

I have no long list of fancy foreign galleries which show my work. Juried art shows or competitions do not work for me. I have all kinds of very happy customers though, who are sometimes very emotional, excited, or who feel empowered. My artwork creates intimate friendships which last for years.

About my illustrations.
For me there is not much difference in approach between my art and illustrations work: it is the same internal process, the inside nagging, the mental chewing and then the fast end-result (I am good with deadlines ;-)

I see illustration as a guided and directed artwork with a specific purpose. A briefing never feels restrictive or limiting: I really like to look for possibilities within the given boundaries of use, time and budget.

I like to focus on the end-user when I make illustration work, instead of the entity that pays me -sorry. I want to know how they think, what they need or want, what their values are. Only then I can make illustrations that inspire and engage.

About my inspiration:
​As European living in the Pacific west coast, my inspiration is a confusing array of styles, art forms, timeframes, concepts and names. It ranges from Viking art, to Russian icons, to modern architecture, from subcultures and art brut to postmodern popculture, and everything in between and alongside.
Powered by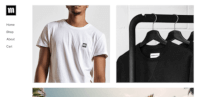 Create your own unique website with customizable templates.