Public speaker.

People never go home after my shows without being affected by them. Not that I usually speak for big crowds, but maybe the intimacy of a small audience makes it even more intense. I'll make you laugh -or cry, hit you in your weak spot, or after my show you break up with your girlfriend (it happened more than once). But you'll never be the same again.

In one of my talks about empowerment, I once cut up a four thousand dollar oil painting, to show how important it is to let go. In another show about empowerment and change, I cracked eggs, to show how fragile our life can be if we don't pay attention. I had women standing on their chairs screaming with frustration and anger in a show about design snobs, and over the years I saw many, many tears.

As an artist and designer I can freely use metaphors from my work to talk about a controversial topic. Sometimes it is refreshing -and more convenient

to talk about an issue without addressing it straight away. My Dutch heritage allows me to be a tiny bit more bold and straightforward every now and then, and I am praised for it.

​

Whether it is about creativity, empowerment, urban gardening, personal growth, problems in your neighbourhood, having a small business, or cooking on a small budget, I'll always try to inspire you by choosing an approach from a different angle than we are normally used to.

Contact me

if you want to be inspired.
Powered by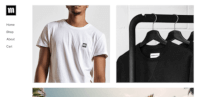 Create your own unique website with customizable templates.